Ordered today, clean air tomorrow
Produced in Hengelo (NL)
10+ year guaranteed lifetime
1 min
4 Benefits of HEPA filters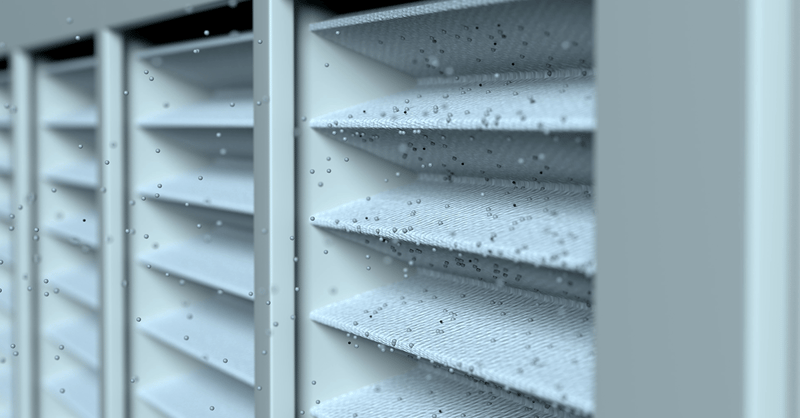 What are you doing to improve the air quality in your business? Chances are, you haven't even thought about it.
Over the course of the day, a lot of dust and bacteria build up indoors. That's not just a problem for those who have allergies — everyone who spends a lot of time indoors will be affected by this. We wrote another article on how indoor air quality impacts us, so go check that out for the full scope, but here's the gist of it.
Think the air in your city is bad? It's shocking to learn that indoor air can be five times as polluted as outdoor air. Because it isn't getting circulated, airborne pollutants can do their thing inside.
This can cause headaches, tiredness, and of course, unpleasant smells. But for people with respiratory issues, it can have far more serious consequences in their wellbeing.
So, what can you do to improve the indoor air quality, apart from cracking a window? A must-have is a HEPA filter, and we'll tell you all about what it does.
What is a HEPA filter?
HEPA filters are High-Efficiency Particulate Air filters, which makes HEPA an efficiency standard of air filter.
How does a HEPA filter work?
We dive deeper into it in our article on How HEPA filters Work, but in short, you need to know this: air is forced through a fine mesh that traps harmful particles, like pollen, dust mites and smoke.
How do HEPA filters help us?
Health benefits


People who suffer from allergies or asthma will know that indoor air quality makes a huge difference in their day. HEPA filters can filter 99.95% of the particles that cause hay fever flare-ups, and dust that can cause asthma attacks.

Easy to install


If you think HEPA filters require difficult installations, think again. Virtually any place can benefit from a HEPA filter, and mobile air purifiers as the ViroPower with a built-in HEPA filter can be placed anywhere.

No harmful byproducts


Better said: no byproducts at all. HEPA filters don't add anything to the air, they just filter it out. That way, there's no risk of unwanted reactions.

Gets rid of unpleasant smells


Air quality is not just about health, it's also about comfort. If for some reason your building has an unpleasant smell, HEPA filters can help neutralize them — depending on where they come from, of course.
Get a HEPA filter for your workplace
Everyone can benefit from a strong HEPA filter in the rooms they spend a lot of time in. Wondering which one is best for you? Reach out to us to find the perfect fit.