Ordered today, clean air tomorrow
Produced in Hengelo (NL)
10+ year guaranteed lifetime
2 min
ViroPower in final Chamber of Commerce Impact Award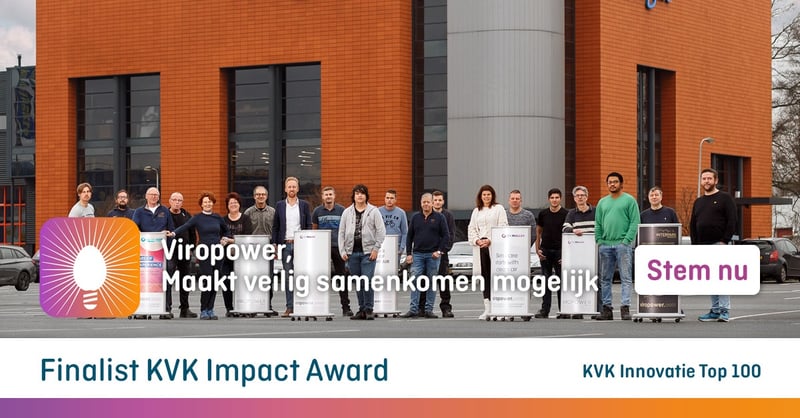 At the beginning of January 2022, we received the happy news that the ViroPower has been selected for the Finals of the Chamber of Commerce Impact Award. The professional jury has composed a Top 5 from more than 100 nominees, in which the ViroPower has been selected together with Attendi, Vodde, 1minute and Orderli.

The Chamber of Commerce Impact Award is a prize for companies that have really started to do things differently under the influence of the corona crisis. Companies that have brought a product or service to the market, with which they have changed the course of their business.

The ViroPower is at the same time a very logical, but also special extension of the range for Ultrasun International. Started in 1974 as a manufacturer of tanning beds, the product portfolio has already been expanded for 15 years with various other light therapies, such as Collagen devices and Beauty Light Therapy machines. However, where these light devices are aimed at health and the skin, the ViroPower is aimed at health by improving air quality. The ViroPower turned out to be a bull's eye and has already saved many companies from becoming a source of infection. In addition, it helps people to come together safely and to reduce the risk of mutual infections.

The winner will be announced in the afternoon on Wednesday 2 February. After the selection of the professional jury, it is now up to the public to determine who will be the winner. You can vote via this link (update: Voting closed. You can find the result here). Thank you in advance!

The website of the Chamber of Commerce about the Chamber of Commerce Impact Award nomination states the following about the Top 5 nomination of the ViroPower:

What exactly is the ViroPower?
The UV-C air purifier ViroPower makes meeting together again possible in a safe way! With the mobile air cleaning device, the worries about harmful particles in the air are a thing of the past. The HEPA filter and the dust filter ensure that allergens, pollen and fine dust particles are filtered out of the air. Subsequently, the UV-C lamps ensure that 99.9% of bacteria and viruses are eliminated.

The UV-C air purifier purifies up to 300 m3 of air per hour and ensures improved air quality. The lamps have a lifespan of at least 9,000 hours. The ViroPower is TÜV approved for, among other things, the safe use of UV-C light and lamps that are ozone-free.

Safety
The local family business has been making lighting devices for the professional international market for almost 50 years. We work with all types from the light spectrum, from UV-A to infrared. There was one type of light, UV-C light, which has very characteristic properties, but for which no application had yet been found because it has some dangerous properties. Most effective to kill viruses and bacteria, but also dangerous if it comes in direct contact with the eyes for example. For months, we have been working on a machine that is able to eliminate viruses and bacteria, but at the same time is safe so that it can be used to solve a major problem during the corona pandemic: coming together in a safe way.

Strong growth
Ultrasun International thought that the ViroPower would be a solution to a temporary problem, but in the meantime it has become clear that (UV-C) air purifiers deserve a permanent place within companies and that the demand is constantly increasing. This is also because the government is paying more attention to air quality. The ViroPower is expected to be just the start of a comprehensive range of devices that will help companies come together safely again. The technology has been used successfully in cleanrooms and hospitals for many years. The ViroPower is unique because you can easily place it in the office and home without major impact.

Why Ultrasun International would like to win this award
"We decided to invest in knowledge, development and innovation precisely at times when we were struggling. Instead of saying goodbye to people, we have spent the available knowledge and time on new innovations. We expect the ViroPower to contribute structurally to the further growth of Ultrasun. This makes the company less vulnerable in terms of dependence on regular products that are largely in the same market. In addition, this new product has led to the hiring of new people, which means that we currently have 60% more people in assembly than before the corona crisis."